Writing, for Jeanette Winterson, is probably a matter of survival. Last summer, I read Why Be Happy When You Could Be Normal, which is her memoirs really. This is a must-read to understand both life and literature.
These memoirs were in fact a late twin to her fist novel Oranges Are Not The Only Fruit, which I found the time to read this summer. This first book is a genuine literary experiment, an exploration; and also a quest into common sense and the absurdity of religious excess. Jeanette is an adopted girl brought up by an invasive mother and her church. We follow her and re-build the puzzle of her childhood until she is compelled to leave.
What I found remarkable and truly impressive about this novel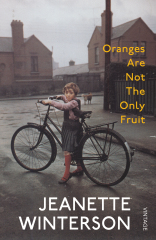 is Jeanette Winterson's masterly use of tone and language. The story is written from the point of view of the girl, who is extremely respectful of the mum's choices and decisions as well as clearly questioning the way they live. Jeanette is torn apart and the reader can feel it too without becoming judgemental.
Oranges Are Not The Only Fruit is a tour de force.
Besides, Jeanette Winterson's introduction to the book should be read and re-read by all literature students.